Sommario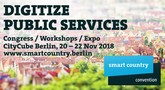 A Berlino il 20 e il 21 novembre
(Regioni.it 3497 - 20/11/2018) Al via la seconda edizione German-Italian Innovation Conference - Investing in Italian Innovation: Smart Policies for a Digital Europe, un'iniziativa dell'Ambasciata d'Italia a Berlino, di ICE - Agenzia per la Promozione all'Estero e l'Internazionalizzazione delle Imprese Italiane - e di ITKAM - Camera di Commercio Italiana per la Germania. L'evento si articola in due giornate il 20 novembre 2018 presso l'Ambasciata d'Italia a Berlino e il 21 novembre a partire dalle ore 10.30 presso la Fiera di Berlino nella cornice della Smart Country Convention presso la Conference Area del City Cube.
Partecipano all'evento le Regioni Calabria, Campania, Lazio, Emilia-Romagna, Piemonte, Lombardia, Toscana, Sardegna, Valle d'Aosta e Friuli Venezia Giulia.
Dopo Industria 4.0, trattata nell'edizione del 2017, si riuniranno quindi nellla due giorni berlinese istituzioni, imprese e investitori dall'Italia e dalla Germania per individuare sinergie volte ad affrontare il cambiamento di paradigma che la trasformazione digitale impone al settore pubblico e privato europeo. Ed è proprio la digitalizzazione ad essere al centro del Piano Triennale per l'informatica nell'Amministrazione Pubblica italiana e della Digital Strategy 2025 della Germania: entrambi i programmi sono stati pensati per favorire lo sviluppo di infrastrutture in grado di supportare gli investimenti e l'innovazione nei due Paesi.
La Germania è infatti il primo Paese UE15 per numero di partecipazioni in imprese italiane, con 1.357 multinazionali alla fine del 2015 (Italia Multinazionale 2017). Non solo le industrie manifatturiere d'Italia e Germania sono profondamente interconnesse nei settori macchinari e impianti, farmaceutico-chimico e metallurgico. La Germania è anche il maggiore partner commerciale delle imprese italiane: un sesto delle importazioni italiane è tedesco, un ottavo delle esportazioni italiane va in Germania. Inoltre, l'Italia è da oltre 30 anni la seconda economia manifatturiera in Europa dopo la Germania e la settima a livello mondiale.
Nel 2018 l'Italia ha confermato il trend virtuoso che l'ha vista migliorare la propria posizione nel ranking FDI – Foreign Direct Investment, ed è entrata nella top 10 mondiale, dove la Germania si è confermata al terzo posto (A.T. Kearney 2018). Per diventare ancora più business-friendly, l'Italia sta mettendo in atto una strategia di riforme dove efficientamento di burocrazia, educazione e formazione sono in primo piano. Ha inoltre introdotto sistemi giuridici dedicati agli investitori stranieri.
Per la Germania, investire in Italia significa avere accesso ad un know-how unico nel settore dei macchinari e dell'automazione, in quello creativo e nel farmaceutico, nel quale l'Italia è al primo posto in Europa per valore di produzione. Le imprese che investono in Italia possono anche contare su una fitta rete di PMI e distretti industriali ben collocati nelle filiere internazionali. La politica industriale italiana ha inoltre facilitato i crediti d'imposta per investimenti privati in R&S e ha introdotto significative possibilità di ammortamento per l'acquisizione di nuovi macchinari.
Alla conferenza di Berlino vengono presentati showcase per opportunità di investimento in Italia. Pitching session dedicate permetteranno agli oltre 60 speaker e 300 ospiti partecipanti di discutere insieme di partnership volte a favorire l'innovazione europea nei settori della creatività, della salute, della mobilità e della formazione.

Program
Tuesday, November 20th - Italian Embassy to Germany
(Tiergartenstrasse 22, 10785 Berlin)
Master of ceremony
• Eckart Petzold, Lawyer and Head of Italian Desk, Luther Rechtsanwaltsgesellschaft mbH
14.30 - 15.00
Registration and Welcome Coffee
15.00 - 15.15
Welcome Addresses
• H.E. Luigi Mattiolo, designated Ambassador of Italy to Germany
• Fabio Casciotti, Director, Berlin Office, Italian Trade Agency
• Emanuele Gatti, President, ITKAM - Italian Chamber of Commerce for Germany e.V.
15.15 - 15.30
Presentation of the Global Attractiveness Index 2018
• Lorenzo Tavazzi, Director Scenarios and Intelligence, The Europan House - Ambrosetti5
15.30 - 15.45
Initial Keynote: "The challenge of the digital transformation for the Italian and European industry: towards a common digital platform?"
• Elio Catania, President, Confindustria Digitale
15.45 - 16.00
Initial Keynote: "The Future of Food: the digital transformation and the challenge of building cooperative ecosystems. Let's grow together!"
• Marco Gualtieri, CEO, Seeds & Chips
16.00 - 16.15
Initial Keynote: "Promoting digitalisation, strengthening
the economy, securing the future"
• Claudia Dörr-Voß, State Secretary, Federal Ministry for Economic Affairs and Energy6
16.15 - 16.30
Initial Keynote: "The European Union - Digital Dwarf or Digital Giant?"
• Dieter Kempf, President, Bundesverband der Deutschen Industrie
16.30 - 17.00
High-level Panel: The digital transformation of Europe and the challenge of fostering innovative ecosystems:
policy and business perspectives
Moderator: Wolf Michael Kühne, Country Managing Partner, DLA Piper
• Antonella Mei-Pochtler, Special Advisor to the Federal Chancellor of Austria and
Head of the Strategy Unit, Think Austria
• Marco Bani, Expert in Public Sector Innovation and former Head of Technical Secretariat, Agency for Digital Italy
• Roberto Ascione, CEO, Healthware Group & Chairman, Frontiers Health
• Filippo Vecchio, Head of Identity, Communication and Innovation Culture,
Intesa Sanpaolo Innovation Center
17.00 - 17.10
Keynote
• Mattia Fantinati, Secretary of State for Public Administration7
17.10 - 18.00
High-level Roundtable: The regulatory framework to
support digital transformation and foreign direct investment
in Italy - National and Regional strategies at a glance
Moderator: Eckart Petzold, Lawyer and Head of Italian Desk, Luther Rechtsanwaltsgesellschaft mbH
Opening remarks: The Chambers of Commerce in Italy and Germany in promoting innovation and internationalization
• Jörg Buck, CEO, German-Italian Chamber of Commerce, Milan
• Mario Pozza, Vice President, Unioncamere
Presentations:
• Stefano Nigro, Director, Foreign Direct Investment Unit, Italian Trade Agency
• Maria Francesca Corigliano, Regional Minister for Education and Culture, Calabria
• Valeria Fascione, Regional Minister for Innovation, Startups and Internationalization, Campania
• Gian Paolo Manzella, Regional Minister for Economic Development, Trade and Innovation, Lazio
• Ruben Sacerdoti, Director Dept. Business Internationalization, Emilia-Romagna
• Federico Zardi, Foreign Investment Promotion-Manager, Piedmont
• Fabrizio Sala, Vice President for Research, Innovation, Universities and Foreign Trade, Lombardy8
Program
Wednesday, November 21st - CityCube, Berlin Fair,
Conference Room 1 (Messedamm 26, 14055 Berlin)
Master of ceremony
• Tonia Mastrobuoni, Correspondent for Germany, La Repubblica
10.00 - 10.30
Registration
10.30 - 10.45
Welcome Address and keynote
• Bernhard Rohleder, Director General, BITKOM, Germany's Digital Association
10.45 - 11.45
Session I: Investing in Italian Innovation - the Italian Trade
Agency as one-stop shop for Investment promotion: selected showcases for investment opportunities
Moderator: Stefano Nigro, Director, Foreign Direct Investment Unit, Italian Trade Agency 9
Introduction and presentation of business opportunities in Italian regions:
• Stefano Nigro - presentation of business opportunities in Apulia, Lazio and Lombardy
• Francesco Landolfi, VP Sales & Marketing, Liquidweb Srl
- Braincontrol (business opportunity in Tuscany)
• Basilio Vescio, R&D Manager, Biotecnomed S.C.aR.L.
- TremorAnalyzer (business opportunity in Calabria)
• Davide Pedrazzini, VP for Product Innovation and TPM Lead, Inpeco
- TPM - Total Patient Management (business opportunity in Sardinia)
• Jan Christian Berger, EVP Sales & Marketing, Quintetto S.r.l.
- Q-CAST, interactive real-time multi-streaming solutions for one-to-million communication (business opportunity in Valle D'Aosta)
• Daniela Zara, Friuli Venezia Giulia – Investments Agency FVG
- Additive FVG Square (business opportunity in Friuli Venezia Giulia)
• Ruben Sacerdoti, Director Dept. Business Internationalization, Emilia-Romagna
- Big Data Technopole - Bologna Hub (business opportunity in Emilia-Romagna)
11.45 - 12.45
Session II: Smart digital content and Creative industries
Moderator: Laura Cinicola, Head of German Desk, LABLAW Studio Legale Failla
Rotondi & Partners
Discussants:
• Giuseppe Amoroso, Head of Digital Strategy and Governance, ENEL Italia S.r.l.
• Alessandro Colombo, Operations Manager, IED Istituto Europeo di Design
• Andrea Bortolotti, CEO, Touchlabs, Bologna
• Giovanni Caturano, CEO, Spinvector, Campania
• Daniele Baldacci, Administrator, BLUE CINEMA TV llc
• Leonora Sartori, Editor in Chief, Houzz Italy
• Stefano Vena, CTO, Altrama Italia S.r.l.
• Saverino De Leo, CEO, 3D Research S.r.l.10
12.45 - 13.30
13.30 - 14.30
Session III: Healthcare without Frontiers
Moderator: Emanuele Gatti, President, ITKAM - Italian Chamber of Commerce
for Germany e.V.
Discussants:
• Alisei Italy's Life Science Cluster: Francesco Maria Senatore, Internationalization Group Coordinator, ALISEI - The digital transformation in the Italian healthcare sector
• Christian Garbe, Managing Director, FiZ Frankfurter Innovationszentrum Biotechnologie GmbH
• Rainer Lampe, Interim Managing Director DACH, Ascom Deutschland GmbH
• Stefano Tagliaferri, Technical Director, Kelyon S.r.l.
• Paolo Massafra, VP - Consultanting Services, ACT Operations Research IT S.r.l.
• Roberto Pani, Full professor, Kay Systems Italia
• Kussai Shahin, Director of SW & Platforms Division, Lepida S.p.A.
• Marcello Pediconi, CEO, Aenduo S.r.l.11
14.30 - 14.45
Coffee Break
14.45 - 16.00
Session IV: Smart Mobility - Interaction, Connectivity and Cooperation
Moderator: Timm Kehler, CEO, Zukunft ERDGAS e.V.
Discussants:
• Max Zeumer, Vice President Business Western Europe, FlixMobility GmbH
• Frank Beckmann, Managing Partner, ParkenPropertyPartner
• Fabio Todeschini, General Manager, BluBrake S.r.l.
• Marco de la Feld, Business Strategist & Project Manager, ENCO - FLIWARE
• Michele Caggiano, Managing Director, FEV Italia S.r.l.
• Enzo Tucci, CEO, Digilog S.r.l. - CargUp
• Giuseppe Tomasso, Chair of Industrial Automation Lab, University of Cassino
• Samuele Furfaro, CFO, Macingo Technologies S.r.l.12
16.00 - 17.00
Session V: Education 4.0
Moderator: Domenico Mauriello , Head of Office, Unioncamere
Discussants:
• Caterina Magro, Instructional Design Lead, Babbel / Lesson Nine GmbH
• Carsten S. Schröder, CEO, DADB - Deutsche Akademie für Digitale Bildung
• Christine Schmidt, Project Leader, Institute for Occupational Educational Research Berlin
• Luca Tesauro, Founder and CEO, GIFFONI INNOVATION HUB
• Giovanni Crisonà, President, skillman.eu
• Andrea Ortenzi, General Manager, Artmediamix
• Francesco Leali, Director of Studies, Motorvehicle University of Emilia-Romagna (MUNER)
17.00 - 17.15
Conclusions and the way forward
Legend
Spoken language: Italian
Spoken language: German
Spoken language: English
Simultaneous translation

( red / 20.11.18 )

Il periodico telematico a carattere informativo plurisettimanale "Regioni.it" è curato dall'Ufficio Stampa del CINSEDO nell'ambito delle attività di comunicazione e informazione della Segreteria della Conferenza delle Regioni e delle Province autonome
Proprietario ed Editore: Cinsedo - Centro Interregionale Studi e Documentazione
Direttore responsabile: Stefano Mirabelli
Capo redattore: Giuseppe Schifini
Redazione: tel. 064888291 - fax 064881762 - email redazione@regioni.it
via Parigi, 11 - 00185 - Roma
Progetto grafico: Stefano Mirabelli, Giuseppe Schifini
Registrazione r.s. Tribunale Roma n. 106, 17/03/03